I am a sucker for hair products especially if they claim to be quick and easy to use. So I just had to try it after seeing the commercial which advertised having the strength of 20 bobby pins.
What: Goody Simple Styles Spin Pin, averages about $6-7 for two pins
How it looks: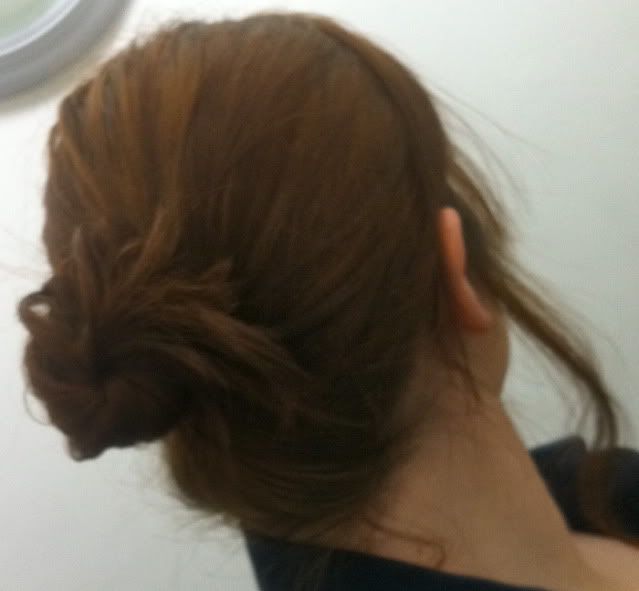 Review:
It works!!! At first I had some issues, but I usually do when I am trying something out for the first time. I didn't know how to put the pin in, you can't just stick it in you have to twist it in. That took getting used to. I also have much shorter hair that I did a few months ago, so its at my shoulders and I am sure that those with longer hair will have an easier time with this. It held really well, I didn't feel like my hair was going to fall out, but again it all depended on how I put the pins in. The directions say put one on the top and then one in the bottom but I found that putting the bottom pin in tilted slightly to the left it held onto my hair better. I even did some yoga and my hair didn't budge at all! I picked these up at CVS but you can find them pretty much anywhere.
Would I buy again? YES!
Plus a Look of the Day (LOTD) which I will hopefully keep up with.
Basically this is a very simple look, mostly with matte shadows and lips that didn't sparkle too much.
Face:
MAC Mineral Skin Finish Natural in Light (applied with the Tokidoki kabuki brush at sephora)
NARS Deep Throat Blush (applied with MAC 187)
Too Faced Leopard Bronzer (applied with MAC 168)
Almay Pure Blends Loose Finishing Powder (applied with the sephora all over face brush)
Eyes:
Urban Decay Primer Potion
MAC Vanilla eyeshadow on the lid (applied with MAC 139)
MAC Quarry eyeshadow in the crease (applied with sephora angled blender brush)
NYX liner in Brown (smudged with the stila flat liner brush)
Covergirl Lash Blast Mascara in very black, two coats (because two is better than one when it comes to mascara haha)
Lips:
Too Faced lip of luxury lipstick in sex kitten
(This review was independently written, no compensation was received for this review)